Role: UI strategist & Front-end Developer | Tools: Sketch, Ai, WordPress, Lodgify
Role: UI strategist & Front-end Developer | Tools: Sketch, Ai, WordPress, Lodgify
Southern Charm wanted to improve and reroute its users journey by moving from a third-party platform to its own online platform. 
This case study examines my experience in an agile workflow, Minimum Viable Product (MVP) and formulating a content strategy to break down a complex re-routing user journey issue.
Southern Charm Retreat, a vacation rental home company in Canyon Lake, TX their goal was to create a fully integrated website that would allow the client to handle payments and bookings independently. By providing a direct booking experience, Southern Charm gains control over the user's journey, free from the complexities of third-party platforms like Airbnb. This not only saves the company money but also allows them to offer user discounts, as they no longer incur fees from other platforms.
Phase 1: Branding and Redesign
The initial phase focused on branding and redesigning the website. My creative strategy played a crucial role in this phase, starting from scratch with only some social media presence and a logo. Through competitor analysis and reference sites like AirBNB.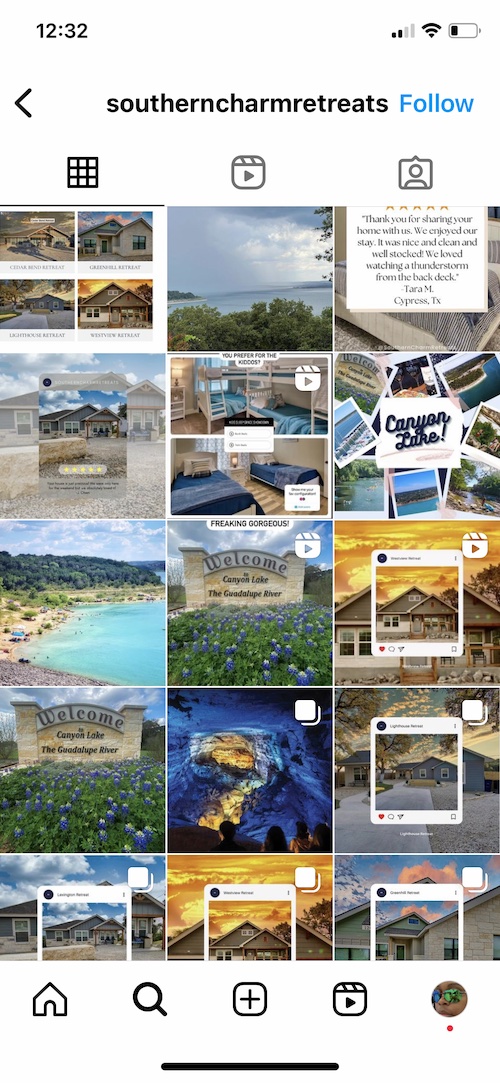 As the UI Designer, I developed a fully functional branded website that aligned with the client's vision. The website was launched as the first phase, providing a fully working platform that still utilized Airbnb and VRBO for bookings.
Phase 2: Integrating Logify Software
Now, the development team had more time to work within Lodgify's constraints and figure out bypasses and solutions.
This phase required close collaboration the design and development team. The agile workflow strategy for this project allowed continuous improvement, iterations, and refinement to achieve the desired seamless integration.
Phase 3: Refinement and Optimization
After the successful integration of Logify, the project moved into Phase 3, where the focus was on analyzing the final product and optimizing its performance. Regular feedback from the client regarding the booking integration and any issues they encountered played a crucial role during this phase. The content strategist and development team worked closely together, engaging in a continuous feedback loop for approximately 2 to 3 months to fine-tune the website, ensuring an optimized user experience and efficient booking process.
Using cross-platform promotion as a means to drive engagement. Leveraging their social media channels and even exploring the possibility of placing an external link on the Airbnb site, redirecting users to their independent platform. By utilizing this approach, we aimed to attract users to explore the new features and offerings.
Making sure everything works well together was an important part of my strategy. I focused on making the two websites look seamless, so when people moved from one platform to another, it felt easy and natural. By combining good design with efficient features, we made the platform look familiar to not confuse users upon the shift.
Through an agile workflow, TXCAPstudio effectively came up with an organized content strategy to continuously meet Southern Charm Retreat requirements. The phased approach allowed for flexibility, continuous improvements, and incremental value delivery. The implementation of branding and website design, I orchestrated in conjunction with the hard work put in by the development team to seamlessly integrate Logify's tricky software, was a success!
The client's goals of independent payment and property management site has increases profits 15% through direct booking.
While I wasn't the project manager for this particular project, I actively contributed and played a significant role as the Designer and Content strategist. It was an exciting challenge as I worked on a continuous MVP (Most Viable Product) approach. Designing for three different phases of the website while considering the user journey and avoiding confusion from previous renditions was a unique aspect of this project compared to my previous experiences.
This project was also a valuable lesson in agile workflows and SWOT for businesses. My direct communication with the client was limited. However, I obtained the crucial criteria, feedback and implementation ideas indirectly through the development team, as they were in more direct contact with the client.
This required me to dig deeper into the research and delve into industry standards while redesigning and cultivating the user journey, which remained a focal point throughout the iterative process. All this ultimately proved to be a successful and rewarding path for myself and SCR.